news
Iconic Houses Lecture Tour - The Weizmann House
The Iconic Houses Lecture 2017, by architect Tal Eyal
The Weizmann House, a masterpiece by Erich Mendelsohn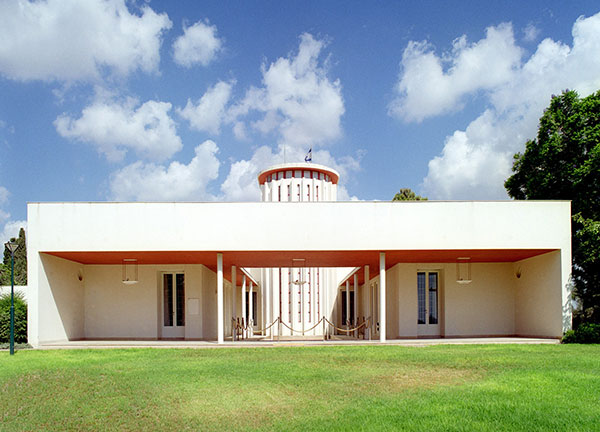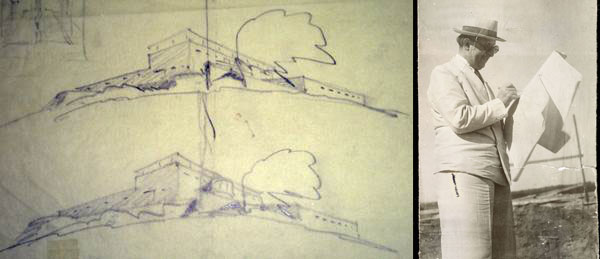 Images:
Top: The Weizmann House
Bottom left: sketch of the Weizmann House
Bottom right: Erich Mendelsohn, drawing on the construction site of the Weizmann house, 1934/35. Photo Erich Mendelsohn Archiv Berlin
Wiggly Terraces Imitating Waves
Landmark work
The Weizmann House was designed and built by renowned German Jewish architect Erich Mendelsohn (1887-1953) between 1934 and 1937. It was intended as the private residence of Chaim Weizmann, who was the first President of the State of Israel, and Vera Weizmann. The chosen location was Rehovot, in close vicinity to the Sieff Institute founded by Weizmann in 1934 (which later developed into the Weizmann Institute of Science). This was Mendelsohn's first project in the country, and his professed goal was 'to construct a building which would be Oriental to such an extent as to make a European feel at home in it.'
A ship at sea
The estate as a whole, house and garden, is reminiscent of a ship at sea, with a unique topography of wiggly terraces imitating waves. It was designed after the European model, with a gatekeeper's house, driveway, U-shaped villa built around a mirror-like pool, which created an illusion of an expanded terrain and had a cooling effect, a well house and open gardens. The couple's villa was an International-style edifice combining elements of a typical Mediterranean courtyard house, much like the bulk of modern local architecture, which exhibited a blend of a high-standard European design with Mediterranean adaptations.
About the speaker, Tal Eyal
Established in Tel Aviv in 2004, Tal Eyal Architecture specializes in architectural planning in existing urban environments and architectural-historical research on a municipal scale. Founding-owner Tal Eyal is a graduate (B. Arch.) of the Faculty of Architecture and Town Planning, Technion—Israel Institute of Technology (1994). She worked on the Conservation Team of the Tel Aviv-Jaffa Municipality (1997–2003) and participated in the application for nomination of the White City of Tel Aviv for the World Heritage list (nominated 2003). She won a fellowship under the Unesco Fellowship for higher studies in conservation and restoration at UPC, Barcelona (2003). Since 2010 Eyal has served as conservation consultant to the Weizmann Institute, and is in charge of the conservation of the Weizmann House that is currently underway. Read our article on the restoration of the Weizmann House.
Mendelsohn's Incessant Visions
The lecture will also include a screening of the film, Mendelsohn's Incessant Visions. This award-winning creative homage illuminates the life of Expressionist architect Erich Mendelsohn. A visionary and contemporary of Walter Gropius and Mies van der Rohe, Mendelsohn produced works that have influenced generations of architects. His story unfolds through an exchange of letters with Louise, a beautiful young cellist, who became his wife. The film gently breathes life into the correspondence of two passionate artists who helped each other weather a turbulent time in history. Mendelsohn's career followed the jagged trajectory of many German Jewish émigrés fleeing Nazism: he worked in England, Israel and finally in the USA. Mendelsohn's drawings pulsate with energy and his buildings are stunning. His earlier work, the Einstein Tower, is one of the most important examples of modern architecture. Critically-acclaimed filmmaker Duki Dror deftly juxtaposes the architect's original designs with contemporary images, weaving in reflections from architects and locals who use these unique buildings today - a testament to the integrity and timelessness of his visionary design. 2012 Winner of the prestigious Golden Award (FILAF d'OR) France International Festival for Films on Art.
Follow this link to view the trailer
3rd European Iconic Houses Lecture Tour
The Weizmann House is a member of the Iconic Houses Network, which connects architecturally significant houses from the 20th century that are open to the public as house museums. In 2014, Iconic Houses started a new initiative together with four European member houses to bring an international speaker to Europe for a lecture tour. Our first speaker was Henry Urbach, director of Philip Johnson's Glass House. In 2015, we continued the initiative, by welcoming Lynda Waggoner on a European tour, the director of Fallingwater and a member of the advisory board of the Iconic Houses Network.
Lecture Schedule
The tour has been arranged with the cooperation of Het Nieuwe Instituut in the Netherlands, Villa Tugendhat in Czech Republic and Villa Stenersen in Norway. The Ungers Archive for Architectural Research is organizing the lecture at the Wallraf-Richartz-Museum in Germany. In collaboration with Het Nieuwe Instituut and kindly supported by the Embassy of Israel in The Netherlands.
Oslo, Monday 8 May, 7 pm
At Villa Stenersen.
Cologne, Tuesday 9 May, 7 pm
At the Wallraf-Richartz-Museum.
Rotterdam, Thursday 11 May, 7:30 pm
At Het Nieuwe Instituut, Room 1. Guests can have a Thursday Bite (€ 7,50) at the museum café before the talk begins at 6:30pm. Both lecture and film are free.
Brno, Friday 12 May, 7 pm
At Villa Tugendhat.
Publication date 31 March 2017