news
Buy Your Early Bird Ticket Now for Pioneers of the Dutch Modern House

Iconic Houses Online Event 2021
We've put together the finishing touches to the programme for this year's online Iconic Houses Event to replace the International Conference that was scheduled in Rotterdam for 2020. The online program will bring you insights into Dutch residential architecture of the 20th century and will strengthen the network of museum professionals who run modern house museums. We will keep you posted in our monthly newsletters!
The programme consists of five modules that each contain a live streamed keynote lecture and an episode of a new series of thematic videos that feature the twenty Iconic Houses of the Netherlands. These modules can be joined live via Zoom by both house museum professionals and architecture lovers on the five Thursdays in September: 2, 9, 16, 23 and 30 September. From mid October 2021 onwards, the package of recorded lectures together with the video series can be purchased as modules through our webshop to watch on demand. Early Bird registration is now open until 31 July. You can register HERE.
Curious about the program? Check out our line-up of international speakers here below.
Subsribe to our newsletter to always be in the know of our updates.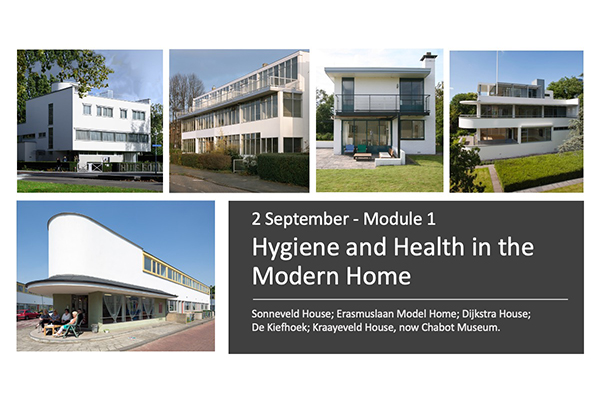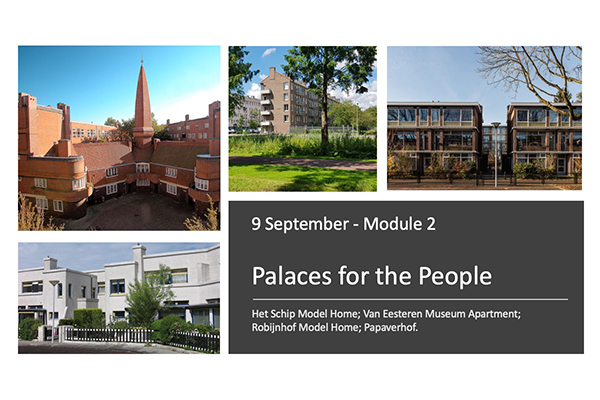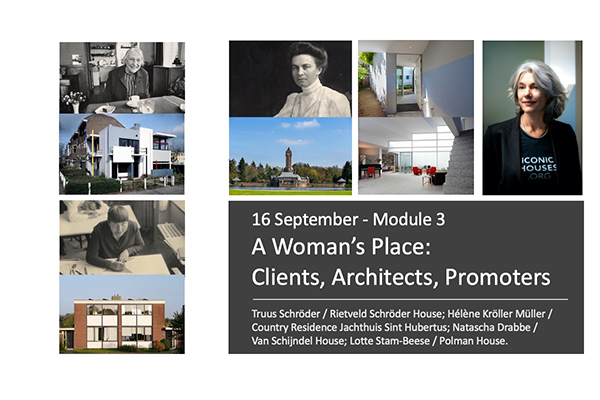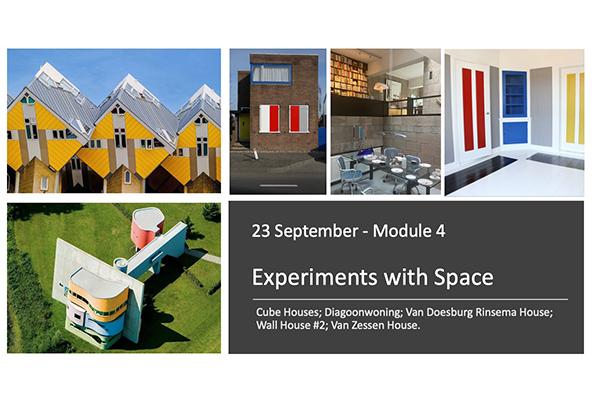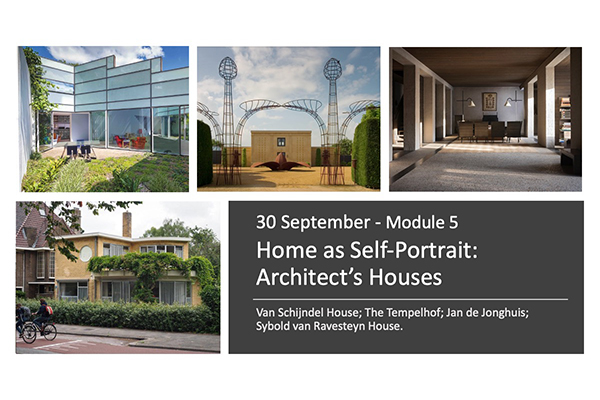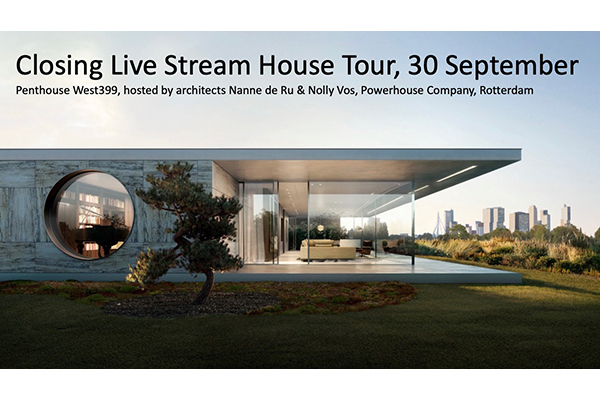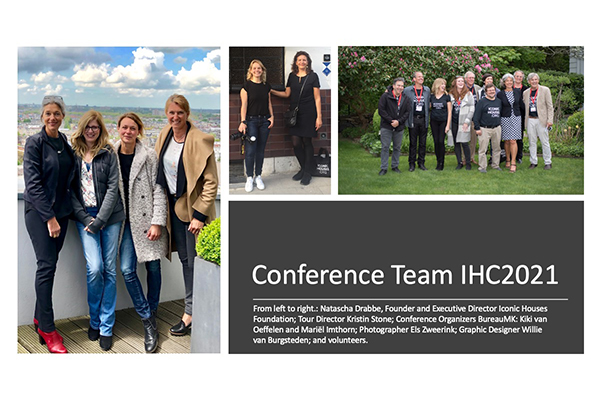 Pioneers of the Dutch Modern House
The online event consists of five modules to go live on the Thursday's 2, 9, 16, 23 and 30 September. We will explore 20th-century Dutch architecture from the Amsterdam School to Post-Modernism, visiting twenty wonderful homes by Gerrit Rietveld, J.J.P. Oud, Brinkman & Van der Vlugt, and many others, not only in Utrecht, Rotterdam and Amsterdam, but spread all over the Netherlands, including Drahcten, Groningen, Delft and Schaik. Several of these are examples of social housing – an area in which the Netherlands is particularly rich. Themes addressed in the live streamed lectures and video series, which feautures the twenty modern house museums in The Netherlands, will include:
Hygiene and Health in the Modern Home
Palaces for the People
A Woman's Place: Clients, Architects, Promoters
Experiments with Space
Home as Self-Portrait: Architect's Houses
Confirmed Keynote Speakers and Expert Presenters of our Videoseries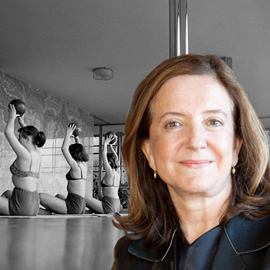 2 September, 2021 - Module 1
Hygiene and Health in the Modern Home
Beatriz Colomina
Beatriz Colomina is Howard Crosby Butler Professor of the History of Architecture at Princeton University. She writes and curates on questions of design, art, sexuality and media. Her books include Sexuality and Space, Privacy and Publicity: Modern Architecture as Mass Media, Domesticity at War, Manifesto Architecture: The Ghost of Mies and The Century of the Bed. Her latest book is X-Ray Architecture. She has curated a number of exhibitions including Playboy Architecture, and The 24/7 Bed. In 2016 she was chief curator with Mark Wigley of the third Istanbul Design Biennial. In 2018 she was mas made Honorary Doctor by the KTH Royal Institute of Technology in Stockholm and 2020 she was awarded the Ada Louise Huxtable Prize for her contributions to the field of architecture.
Click here for our interview with Beatriz.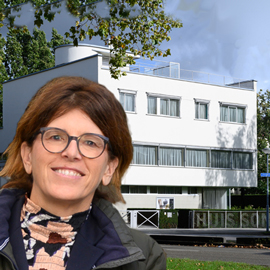 Thematic Video 1 - Sonneveld House
Expert Presenter: Hetty Berens 
Hetty Berens, an architectural historian and curator, is responsible for the Sonneveld House in Rotterdam, which has been restored to its original 1930s glory. In her video she will explain how improved hygiene made healthier homes in The Netherlands.


Houses that will be featured in this episode are: 
Click here for our interview with Hetty Berens.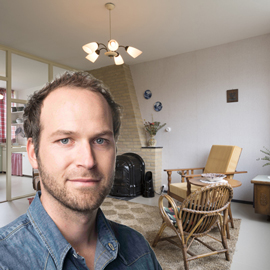 9 September, 2021 - Module 2
Palaces for the People
Valentijn Carbo
Valentijn Carbo is an architectural historian at the leading private trust for the preservation of historic houses in the Netherlands, the Hendrick de Keyser Association. He currently runs their 'Museum Houses' project. the Hendrick de Keyser Association. After his graduation at Utrecht University, Valentijn joined Museum Van Loon in Amsterdam as a curator. He currently runs the project 'Museum Houses'. This ambitious project is opening and displaying 35 of the association's most important houses.His role has been both practical and conceptual in setting up the project. Valentijn is a board member of the Dutch Interior Foundation and participates in the interior platform of the Cultural Heritage Agency of the Netherlands.
In his lecture, he explores social housing in The Netherlands, and the impact of the 'woningwet' ('dwelling law') of 1901.
Thematic Video 2 - Model Home Het Schip
Expert Presenter: Valentijn Carbo
Valentijn is also the presenter of the thematic video. In the Model Home of Museum Het Schip he will explain what building for the masses in the 1920s and 50s looked like and connects the projects either by their differences or similarities. 
Houses featured in this episode are:
Click here for our interview with Valentijn.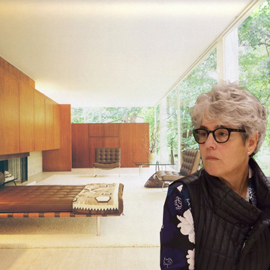 16 September, 2021 - Module 3
A Woman's Place: Clients, Architects, Promoters - Alice T. Friedman
Alice Friedman is an art historian and the Grace Slack McNeil Professor of the History of American Art and Co-Director of the Architecture Program at Wellesley College. She is also a curator, art critic, and author of Women and the Making of the Modern House. Her research and teaching focuses on modern architecture and the history of design in the United States. She is particularly interested in mid-century modern architecture, in the culture of the United States in the years following World War II. Broadly speaking, she is concerned with the social and cultural history of architecture, with an emphasis on issues of gender, patronage, and the history of taste, both in the United States and in Europe, 1750 to the present.
In her lecture, Friedman will shed light on Wright's Susan Lawrence Dana house, emphasizing the contributions of Marion Mahoney, Eleanor Raymond's house for Natalie Hammond, and the Farnsworth House with a nod to Tugendhat and Lily Reich.
Click here for our interview with Alice T. Friedman.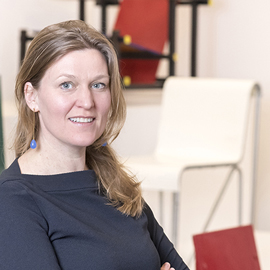 Thematic Video 3 - Rietveld Schröder House
Expert Presenter: Natalie Dubois 
Natalie Dubois is curator of applied art and design at the Centraal Museum Utrecht. Among other things, she is responsible for the three Rietveld houses that are being managed by the museum. Natalie studied art history at the UvA (Amsterdam) and NYU (New York) and museology at the Reinwardt Academy (Amsterdam). 
In this episode Natalie will tell us about the different and important roles that women played in the Netherlands, as client (Hélène Kröller-Müller), as co-designer (Truus Schröder-Schräder) and as architect (Lotte Stam-Beese).
The significant houses with which they were involved, will be featured in this video are: 
Click here for our interview with Natalie Dubois.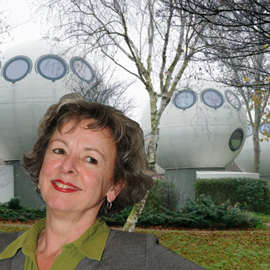 23 September, 2021 - Module 4
Experiments with Space
Anita Blom
Anita Blom is an architectural historian and Senior Specialist in post-war architecture and urban planning at the Cultural Heritage Agency of the Netherlands and author and compiler of the book Experimental housing in the Netherlands 1968-1980. She currently heads the RCE's 'Post 65 project', which examines ways of dealing with recent heritage. She researches in particular post-war residential areas; in addition, she promotes wider public interest for the Netherland's post-war cultural heritage and stimulates the redevelopment of post-war areas. She is also the co-author of Post-war reconstruction the Netherlands. The future of a bright and brutal heritage.
At the conference, she talks about experimental housing of the 1970s.
Click here for our interview with Anita Blom.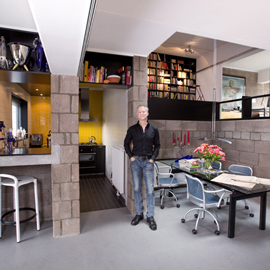 Thematic Video 4 - Diagoon House
Expert Presenter: Robert von der Nahmer 
Robert von der Nahmer is an architect and the owner of the Diagoon House, an experimental home by Herman Hertzberger, and a member of Iconic Houses. A graduate of the Royal Academy of Fine Arts in The Hague and the Academy of Architecture and Urban Design in Rotterdam, he was an architect at Alkemade & Von der Nahmer and the multidisciplinary design agency ProForma while also teaching widely, including at the Academy of Architecture and Urban Design. He lives in the Diagoon House in Delft. His film is about the search for architectural and visual ways to guide and intensify our experience of space and time, and experiments involving these. It explores what in Dutch is called 'wooncultuur' – the culture of living in our homes.
The experimental houses that will be featured in this video are:
Click here for our interview with Robert von der Nahmer.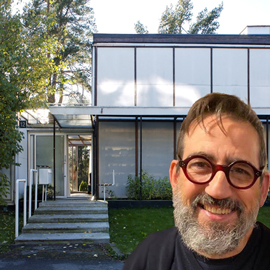 30 September, 2021 - Module 5
Home as Self-Portrait: Architect's Houses
Gennaro Postiglione
Gennaro Postiglione is Professor in Interior Architecture at Politecnico di Milano and author of The Architect's Home (Taschen), – a topic he revisits as a keynote speaker at the online conference Pioneers of the Modern Dutch Modern House. His research field is domestic interiors culture, at the intersection between people, places, and practices, crossing architecture, ethnography, and material culture. The same theoretical background nourishes also his research by design activity addressed towards adaptive reuse of minor and/or neglected heritage. Recently, he has engaged in a research investigating dwelling practices with the goal to provide new housing solutions for contemporary extremely articulated and differentiated households. He understands research and teaching – and tries to be consistent with - as an integral part of design practice.
In his keynote address, Gennaro will look at the architect's house as an interesting form of 3D self-reflection which is otherwise rare in the architect's oeuvre. In all houses built by architects for themselves, you see a mix of character and ideas – which may or may not be in harmony with each other.
Click here for our interview with Gennaro.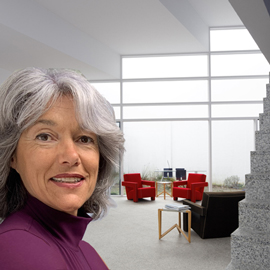 Thematic Video 5 - Van Schijndel House
Expert Presenter: Natascha Drabbe 
Natascha Drabbe is the founder and executive director of the Iconic Houses network. She graduated in architectural history from Utrecht University and has published, curated, lectured and been a member of design and architecture juries at home and abroad. She was an international project manager at the Dutch Design Foundation (Premsela) from 2002 to 2006. In 2007, she set up the Mart van Schijndel Foundation, in order to keep that architect's ideas alive and make his home in Utrecht available for guided tours, lectures and film screenings. This was followed by launch of the Iconic Houses Foundation in 2008 and the website iconichouses.org in 2012. International Iconic Houses conferences have been held in London, Barcelona, Los Angeles and New Canaan.
Houses that architects design for themselves are like test labs for new ideas. In the four houses that are central to this episode, we see the architects Van Ravesteyn, Jan de Jong, Mart van Schijndel and the Kortekaas artists duo putting their theories into practice down to the smallest detail. We also see what a challenge it is to build an experimental house with the small budget that architects usually have for their own homes. As a result, they often experiment with unorthodox, cheap building materials, which later leads to major restoration issues. Natascha lives in the Van Schijndel House in Utrecht.
Houses that will be presented in her video are: 
Click here for our interview with Natascha.
We look forward to seeing you online in September!
Link here to the Early Bird registration.
---
Click on below photos for interviews with the keynote speakers at our conference.
---
Click on below photos for interviews with the experts in our thematic video series.
In the run-up to Pioneers of the Dutch Modern House, our Iconic Houses online event in September, we talk to leading authorities on architecture in the Netherlands about the Dutch reinvention of the house in the 20th century.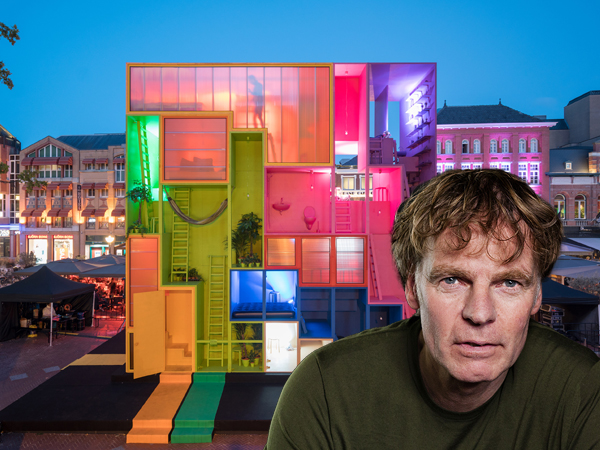 Winy Maas
---
The 2022 Conference will be one where the Iconic Houses community can meet in person again. Like the 2018 edition that you see in the sizzle reel here below. For a complete photo gallery, including the house tours, follow this link.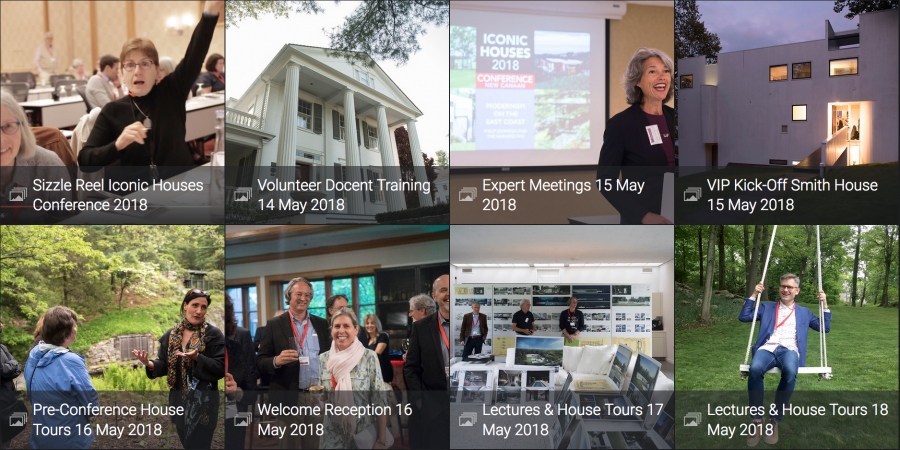 For a complete photo gallery of the 2018 conference follow this link.
Organizing Partners
Supported by

Sponsors
Sponsors in Kind
Itinerary subject to change.
Latest update 22 July 2021